Magnetic Levitating Lamp Bulb with Wireless Charger Light Floating Lamp For Night Desk Office
Bring the Art of Levitation - Levitating Light Bulb To Your Home & Your Lover!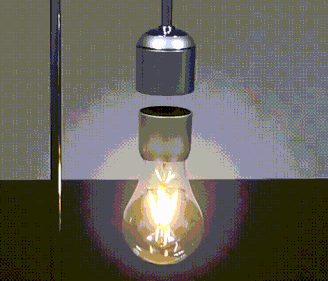 While most light bulbs are fixed to a socket, Enovo magnetic levitating light bulb is powered through magnets and the air by induction, allowing you to illuminate your home and stand out with this awe-inspiring floating lamp.
The floating levitating led light bulb lamp levitates with elegant grace. It will keep you mesmerized and at peace without your electricity bill skyrocketing. The levitating lamp is shatterproof, durable, and will last years to come.
✅ FLOATING BULB: Floats without any support or contact, uses magnetic levitation technique, bulb powered through the air via induction, lights controlled by the touch button:on/off on the wooden base.


✅ SAFETY UPWARD CATCH: Once powered off the magnetic force pulls the bulb in an upward motion where it will remain magnetized until powered on again.


✅ MODERN, SIMPLISTIC AND INNOVATIVE: A cool concept. Fancy and Unique decoration for your home, office, conference room, auditorium, canteen, and guesthouse, have unique visual effect.


✅ LOW POWER EFFICIENT UPGRADED LED: Warm white light bulb. NOT for reading or homework! It is intended for decorative/design purposes. The magnetic bulb lamp has a max brightness of 80-100 lumens.


✅ MATERIAL: Real wood base with Unique Magic glass bulb and a High Polished metal frame display.


✅ BE A UNIQUE GIFT:  Magnetic levitating light bulb is a great unique gift for lovers, friends, business partners, colleague, boss, parents, and kids at Christmas, birthday, holidays, wedding, anniversary, spiritual gifts for women and men, etc. Image when they receive and open the box, it will bring them much surprise!
How to Use:
Place the base on the flat table and plug in the power, then hold the light bulb close to the suspension device, you can release the light bulb gently when you feel it is floating.


Specifications
• Input voltage: AC100V-240V
• Output voltage: 5V 1A
• Whole Power: 12.4 W
• Light Power: 1 watt
• Efficiency: 16Lm / W
• Brightness: 20 Lumens
• Color temperature: 2700K
• Levitation height: 15mm-17mm
• LED Light color: White, Multicolor
• Package size: 44*22*16cm
• Item Weight: 1kg
• Material: Borosilicate glass + OAK Wood + Iron Rod
What Will You Get
1 * LED Light Bulb
1 * Magnetic Base
1 * Power Adapter